Not many South Africans would have let our relatively mild winter put them off the occasional braai. But let's face it, summer and those hot days and pleasant evenings will get more of us lighting fires and serving up delicious braai delicacies from braai broodjies to sosaaties, potjies to tjops and ribs, mmmm! The list is endless.
Yes, braai season is virtually upon us, starting with National Braai Day later in September, so dust off those braai recipes and, most importantly, get that braai equipment ready for the season. No matter what type of braai you use, you will need to do some maintenance, cleaning and replacement of cleaning implements to ensure you avoid hygiene issues, flare-ups and the like.
Replace your Braai Grill Brush!
This thing ends up collecting congealed fat and gunk from your braai, and no-one wants broke-off bristle in their meat. Grill brushes are cheap. Think about replacing your grill brush once a year.
How's the Braai Grid Looking?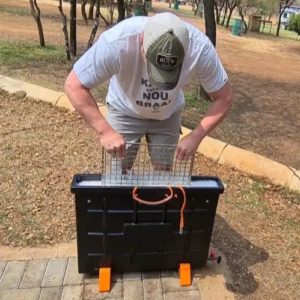 If you leave your grid out, even for one day, chances are a bird will visit looking for scraps. Birds tend to poop on everything, let's just leave that there! So a good habit is to pack the braai grid you cook on away when not in use. Once in a while you should give it a good clean with a decent braai cleaner and a scouring pad. You may want to look into one of the fancy braai grid cleaners you get these days.
It's not only about Looks! (Gas braais to the front)
If you're using a gas braai, remember to clean those surfaces regularly to prevent germs. Invest in a cover to keep your prized asset in tip top condition. Also remember to check gas hoses and connections regularly. Remove the grates and use a wire brush to remove any debris that may be blocking the holes in the burners. Lastly, remove any gunk below the burners that may cause a flare-up.
Get Organised.
Keep your braai implements and cleaning supplies in on dedicated place, be it in a crate, cupboard etc. You'll want to check your tongs still work, mitt has not burnt through and that you have enough braai cleaner.
Braai Checklist
Braai cleaning liquid
Grid/grill brush
Braai grid
Wood, charcoal or briquettes
Matches/gas lighter
Axe
Newspaper, useful for cleaning the grid after brushing to remove bits
Something to drink and something to braai!
Get your braais and braai accessories from Camp And Climb – we love the braai!